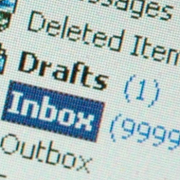 Is it time to abandon the email address on your website?
Are you a victim of SPAM from an email address you put on your website? Before you remove it and sacrifice a new one, try JustMailto!
JustMailto can start filtering all the junk today.
JustMailto can be used on existing email address in 3 easy steps!

Setup a box and select "Use Your Own Email Address"
Enter a good email to forward validated messages to.
Paste the script on the site or the page where the email is getting spammed.
Viola! You are done! Enjoy email from your website again!