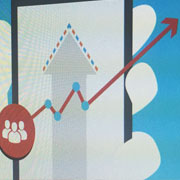 Spending Tons on PPC? Get the Best Bang for Your Buck and Increase Conversions!
Spending Tons on PPC? Get the Best Bang for Your Buck and Increase Conversions
What's the secret to increasing conversions on your landing pages? Hint: it's not adding another online form for your potential customers to fill out.
We hear from many clients that they are continuously paying for costly pay per click campaigns only to find that their landing pages aren't converting and potential customers are dropping off when it comes to filling out the dreaded online form. Every time someone clicks on your ad, you pay money. Your PPC campaign is supposed to increase conversions. Stop wasting your precious PPC budget. Turn mobile visitors to your landing pages into real customers. How? By using JustMailto.
Let's be real…online forms are a burden no one wants to bare. People who get to your landing page or website just want to connect with your business through one click of a button, but that hasn't been possible before. And, that's where JustMailto comes in.
JustMailto gives mobile website visitors the ability to easily connect to the website owner via email. JustMailto's single line of code presents mobile visitors with a "pop-in" email link. The user clicks the link, which opens up a new email message; the user then types their message to you, and clicks send. It's that quick and easy. And, with more and more potential customers using mobile devices, having the ability to connect with your business easily is critical to converting more mobile customers.
Does it work, you ask? Yes, and better than most businesses could ever imagine. Customers who utilize JustMailto see more inquiries because it's only one click to communicate with your business as opposed to a tedious online form. Better still, more of these inquiries convert to real customers.
Best of all, it doesn't cost anything for you to install JustMailto into your next PPC campaign. We'll set it up FREE. After that, plans start at just $19.99 per month to have the peace of mind in knowing potential customers can connect with you with ease. And, you can cancel the service anytime (although, why would you want to?).
Are you ready to start converting more visitors into real leads? Call us today and experience the JustMailto difference – (888) 575-0278.