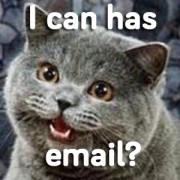 Is It Safe To Put My Email Address On My Website?
The answer to that question is a resounding "Yes!", but it hasn't always been that way…
Marketers and developers have known for decades that it's simply not safe – or wasn't safe! — to publish email addresses on a web site. In the past, when individuals or firms published an email address on a web site, they made themselves prey to spambots that invaded websites and used email harvesting software to rip email addresses off coded Contact Us pages, then opted-in those addressees to multiple lists the addressees didn't want to or need to be on.
The next thing you knew:  marketers and their client businesses were getting crushed by spam and virus-laced email. Businesses slowed down as decision-makers could barely see those emails they needed to act on through the spam-infested email forest.
Not a pretty situation; so someone had to fix it.
Enter JustMailto.
Ladies and gentleman, JustMailto cordially invites you to its spam-free world of clean and seamless B2B and B2C correspondence, communications, and transactions.
To eliminate spam, Justmailto provides corporate marketers and agency webmasters and developers a snippet of code utilizing mailto: links, that developers can safely place on their websites to authenticate email, eliminate spam, and capture valuable marketing analytics.
Using JustMailto's Dashboard Expert, agency marketers or webmasters may now eliminate spam and deploy an amazing email lead capture tool that allows them to view and route communications from their websites; report on campaign performance; per-page performance for A/B Testing; Click Through Rates; demographics; and export data to CRM systems or mailing lists.
JustMailto gives development and marketing firms the power to place email addresses back on the web, yielding easy captures and quick conversions for businesses, and seamless transactions for customers.
"Is it safe to put my email address back on the web?"
Well, that's no longer the question.
The question is "When?"
The answer is "Now!"